Wireless Phone Chargers
Wireless Charging Stands
Wireless Charging Pads
Wireless Charging Docks
Best Wireless Car Chargers
These wireless Qi chargers are built into phone mounts for the car. You simply clip your phone into position which is simple especially with magnetic wireless car charger, and the charger charges your phone with the convenience of wireless charging.
MagSafe Wireless Chargers
A new family of quick-attach accessories for iPhone 12 and iPhone 13 series phones. Enjoy fast, wireless charging in a snap with these MagSafe compatible chargers.
---
Wireless Chargers
Wondering how to get your phone charged without wires? Well look no further. Here are the best wireless chargers that will help you eliminate clutter and avoid tangled wires. With a wireless charger, you simply drop your phone on the pad, plug in for power where it needs to go; there's no need for cables like USB-C or Lightning!
One of these versatile single device chargers is perfect if all you want is one place to charge up with just enough juice for when emergencies arise. However, those who have many devices may be better suited with an even more flexible option - they can simultaneously recharge their smartphone as well as AirPods and Apple Watch at once by using this type of three port charging station!
Here are our wireless chargers. Forget the hassle of plugging your phone into a charger. Don't worry about messy cables on your table or desk. Use a wireless charger. There are many phones and devices that have the ability to be charged wirelessly.
A wireless charging pad or stand provides convenient charging without the mess of tangled charging cables. All you need to do is plug the Qi wireless charging pad into power source and place your compatible device on it for charging. You place your phone on the wireless charging mat or wireless charging pad and your handset charges wirelessly, without you needing to plug in it to the charger.
Qi is one of the most commonly used standards for wireless charging currently. Qi is Chinese and is pronounced 'Chi' or 'Chee'. The principle behind Qi is to allow Qi wireless charging enabled devices to work with all Qi wireless chargers. There is no need for separate chargers, cables, adapters when traveling.
What is A Wireless Charging Pad
Wireless charging pads are a technology that helps to make our lives easier - negating the need to plug your phone or tablet into your mains power to charge it up. The pads themselves, however, still need to be plugged into a mains power point somewhere, but you can, with some charging pads, keep these pesky cords out of sight and keep your space clean. They are handy both for home and in the workplace, and ensure that you're never searching for a charging cord again.
How Do Wireless Charging Pads Work?
Wireless charging is possible via the means of electromagnetic induction, wherein a magnetic field is created between the charging pad and your device which energy can flow through. This is what's known as inductive charging. This field isn't actually created by the pad and device, it's by conductors hidden within them both. Within the charging pad there is an induction transmitter coil, and another, secondary receiver coil within the device to be charged.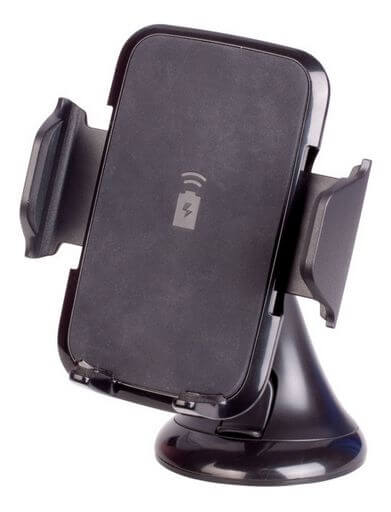 Wireless Car Charger
The time that you spend driving can be an ideal time to charge your phone. This is true when you drive long distances. Needing to plug and then unplug your phone each and every time you get in your car can be a hassle. Considering that there are lots of new phones that have inbuilt wireless charging capability there is and easy fix for this. If you have a wireless charging enabled phone, you should make thing that little bit easier use one of our wireless chargers in the car. These chargers not only hold your phone but also wirelessly charge it at the same time. It's a double win!
Magnetic Wireless Car Chargers
Magnetic wireless car chargers are car mounts with powerful rare earth magnets and built-in Qi wireless technology, that not only wirelessly charger your phone but they look great too. These will hold your phone magnetically and charge it wirelessly. This allows the holder or cradle to have a very minimilast look. These car chargers combine the latest technology with sleek and minimalistic designs.
Wireless Charging Stand
Wireless charging stands are tabletop wireless charging devices. They hold your phone at a convenient angle while delivering wireless charging power. Some of these stands can also fold down flat to become a charging pad for even greater versatility.
Pure Inductive Charging
A charge is converted from the mains into an alternating current (AC), which then resonates outwards by the transmitter coil in all directions, creating an alternating magnetic field. If it hits the secondary coil, this secondary coil will, in reaction, induce an AC current. This current going between the transmitter and receiver coils may then be converted into DC current within the receiver field to charge the device battery. In fact, it was Nikola Tesla himself that laid down these basic principles of electromagnetic transfer.
This is the principle of pure inductive power transfer. However, in practice, pure inductive transfer has some very specific needs to be met for the power transfer to be truly effective. These are:
Both coils need to be of equal size
Coils need to be aligned in parallel
Coils need to have only a few millimetres of separation between them

In practice, the effectiveness of pure inductive transfer is only about 30-60%.
Wireless Charging Pads - Resonant vs. Inductive
Resonant wireless charging is a similar technology to inductive wireless charging. In fact, inductive wireless charging actually is resonant wireless charging - by the way that it works, with the transmitter coil inducing resonance in the receiver coil. However, in resonant charging, both coils are already tuned to resonate at the same frequency, rather than this being induced by being within near distance of the transmitter coil.
Because the two are resonating at the same frequency, this pulls them both into a stronger 'tunnel', rather than the transmitter sending out signals in all directions. This means that charging is more effective - devices can be further away.
Through this process, there is only the need for the small field - the coils don't need to be touching, and there can be space or other surfaces between the two objects, so long as the surface isn't metal - or it will interrupt the field.
How Do Multi-device Wireless Charging Pads Work?
Multi-device charging pads or wireless charging docks have multiple transmitter coils lurking beneath the surface, allowing you to pair multiple devices with the charging pad.
Qi Standards
If you have a wireless charging pad for a mobile device, chances are that it is built to the Qi standard. Qi is the choice of wireless What exactly is that, though? Well, it is a standard that was introduced by the Wireless Power Consortium and both pure inductive as well as resonant charging in the current standard. The Qi standard aims to be as useful as possible for the largest range of devices on the market.
Through pure inductive charging, the Qi standard can be adopted in charging mats where the distance between coils (and respective casings) is up to 7mm, or 0.7cm. Through resonant charging, the standard can be adopted to stretch this distance to 45mm, or 4.5cm. Any non-metal surfaces can sit between the transmitter coil and the receiver coil without interrupting the electromagnetic field. Metal surfaces will disturb the field, making charging unpredictable. However, this means that you can install a charging pad below the surface of a desktop, for example.
These standards have been adopted by a large number of device manufacturers, including Apple, Sony, and Samsung.
PMA Standards
PMA is the current alternative to Qi charging, and is supported by a smaller number of devices. It presents a similar way to do wireless charging. Some devices, such as the Samsung Galaxy S8, support both Qi and PMA standards, which means that you can charge them on pretty much any wireless charging pad released after the phone was released.
Which Handsets Can Use Wireless Charging Pads?
Handsets that can use wireless charging are bound by whichever standard they've adopted - although typically this is Qi charging.
As well as these chargers, we also have other types of phone chargers, including USB chargers, iPhone chargers, USB C chargers, portable chargers and more.
References
"
Qi enabled Phones / Qi compatible Devices
". Qi Wireless Charging. Retrieved September 27, 2017
Qi wireless charging standard emerges victorious; adoption rapidly increasing
, 17 February 2017