iPad and iPhone Cases, Covers And Accessories
Listed below are Apple iPhone and iPad models that we have cases and accessories for. Please click on the model to show a list of cases and accessories for that model.
Click On Your iPhone or iPad Model
Previous Generation Apple Device Accessories
Best iPhone Cases
If you're looking to buy an iPhone case that is a bit more decorative and will make your iPhone truly your own then look at the Case-Mate range of cases. Case-mate offer designs to suit all tastes and personalities. If you're wanting something with style and a bit of flare, Case-Mate offers a large range of unique and cheeky designs. Case-Mate is the leader in design of fashion-forward premium wallet iPhone cases. Many of Case-Mate's cases also have 10-foot drop protection so not only do they look, they also protect your phone very well.
Case-Mate Brilliance iPhone Case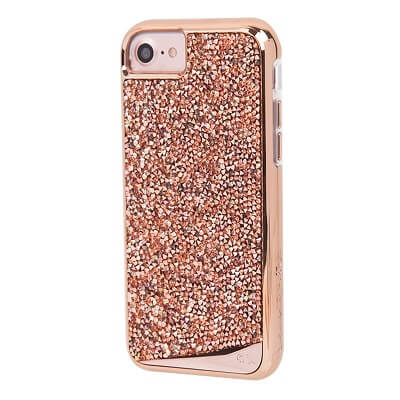 A brilliant and tough iPhone case. The Case-Mate Brilliance case has some serious eye-catching sparkle that is hard to beat. Each one of these is a case that has over than 800 crystals that are framed by metal accents.
This iPhone case has an underlying dual-layer shell that meets military standard drop-tests that will allow your iPhone to survive a fall with this case on. There's also a raised lip to on the front of the cased to help safeguard the screen. This case also has metallic button covers, as well as generous openings for ports and other functions. The Brilliance case is available in iridescent versions as well rose gold, lace and champagne colours.
Case-Mate Waterfall iPhone Case
The Waterfall case has a snow globe effect that will entice and captivate you with its cascading sparkle and tumbling glitter. But this case also provides 10 ft. drop protection, has metallic button covers and openings for ports.
Best Rugged iPhone Cases
Do you need a case to protect against tough work areas and the elements? No mater if you're worried about drops, spills, dust or snow, you're sure to find a case that can handle your lifestyle here.
Otterbox iPhone Case
Otterbox is one of THE go-to brands for tough, uncompromising device protection. Their cases are subjected to a minimum of 238 hours of testing to ensure protection against drops and scratches.
Otterbox cases range from slim cases that provide great everyday protection to tougher and more serious device protectors that also shield against dust, dirt, mud and snow. Otterbox also have scratch and shatter resistant screen protectors.
Lifeproof iPhone Case
Lifeproof is another company that provides hugh end rugged iPhone cases. The Lifeproof iPhone case range begins with cases that provide protection from drops of up to 2 metres. At the high end of Lifeproof's rang are cases that give protection from full submersion (up to 2 metres), dirt, snow and debris.
Lifeproof iPhone cases have been designed with adventure in mind. These cases are about safety first, however they also come with a little style, they are available in a range of funky colour options.
Some Apple iPhone History
What kind of phone do you have, nestled there in your pocket? Chances are that it's an iPhone. In fact, in Australia, Apple owns around a 40% share of the smartphone market. That is a lot of iPhones. (update in March 2018 ZDNet reported: Apple has taken a 56.2 percent share of the Australian smartphone market, compared to 43.8 percent for Android, according to the research firm IDC.)
iPhones are what made Steve Jobs a household name and are responsible for many millions of hours wasted on Candy Crush.
The way that Apple managed to revolutionise the smartphone industry, through using clear, simple and easy interfaces is one of the biggest stories of the underdog rising up against its competitors.
Way back in the mid 2000's Apple was busy making iPods and the best selling phones were Nokias (like the 6270) and Motorolas (like the KRZR K1) and PCs were still king with Microsoft top of the pack. Apple were known for making fast hardware, an alternative computer for those people who didn't like Windows, and clever MP3 players. That was all before one event that managed to change the computing landscape forever: the birth of the iPhone.
Apple Launches The Original iPhone
In January of 2007, Jobs announced that Apple were to debut a phone. They were planning to release the iPhone: a phone that was built entirely from Apple software and hardware from the ground up. The iPhone was released in June of that year.
Sold originally only through AT&T in the US, people scrambled to get their hands on one. When they were released people lined up waiting outside stores. Customers from other service providers' jail broke iPhones just so they could own one.
iPhone 3G The First Official Australian iPhone
From that first release, Apple have come a long way. A year after the initial release of the iPhone they put out the iPhone 3G, which incorporated new technologies such as 3G and GPS. A year later came the 3GS: an updated version of the 3G with an S for Speed. It had higher performance, camera resolution and voice control.
Australia did not officially get the original iPhone. The first model for Australian release was the iPhone 3G.
Another year later, 2010, signalled the release of the iPhone 4 which, at the time, was the thinnest smartphone available. With Retina Display for high definition, a front facing camera (fantastic for selfies) and an improved multitasking chip, it was everything customers had hoped for and more.
Apple Launches the iPad
Before the iPhone release this year however, Apple had something new to market: the iPad. Intended for heavier use than an iPhone but for those that didn't need (or want) a computer, the iPad - a tablet computer without an external keyboard. Sales were astronomical. In the early 2000's, Microsoft had tried - and failed - to get a foothold with Microsoft Tablet PCs. It was a new birth for tablet computers.
The following year came the next iPhone - the 4S - with an S for Siri. This iPhone 4 upgrade also had a more capable camera, faster processing speeds and introduced iCloud. The iPad 2 was also released.
The iPhone 5 And The Lightning Connector
Then the next year, 2012, came the iPhone 5. It was thinner and lighter than its predecessors and had a significant increase in screen size. It also introduced the new Lightning dock connector. As before, there were new iPad versions out too - the iPad 3, the iPad 4, and a new kid on the block, the iPad mini, a smaller version of the iPad.
The next year saw the release of two upgrades to the iPhone 5: the iPhone 5c, which used polycarbonate as its casing and came in a wide variety of colours, and the iPhone 5S which had a new home button, fingerprint recognition, an updated camera and a heavily beefed up hardware set with a 64 bit chip and the M7 processor. The iPad Mini 2 came out along with a new version of the iPad - the iPad Air, neatly tying in with Apple computer sales of the Macbook Air.
Another year on saw the release of the iPhone 6 and 6 Plus. These iPhones were larger still than the iPhones before them - especially the iPhone 6 Plus which is a phablet size. The updates included adding an NFC payment system, a faster processor again and better wifi connectivity. iPad Mini 2 and iPad Air 2 also saw releases. 2014 also saw Apple's latest tech offering release - the iWatch - the much hyped wearable tech to help you use your iPhone more conveniently.
iPhone Launch Mania
Every yearly release there were people queued up to get their hands on the latest Apple product, the latest iPhone. They've incited phone-induced hysteria. The queue for an iPhone 6 release down in the Meatpacking District in NYC stretched for 4 blocks. People camp out for days just to be the first in line. One man spent 10 days outside an Apple store in London just to be the first in the door. It creates a buyer rush unlike no other we see. This stopped at the release of the iPhone 6S release as Apple started to take preorders and also allowed its Telco partners to take preorders, after it has announced that year's lineup.
The iPhone 6S and iPhone 6S Plus were released on September 25, 2015. This continued Apple's pattern of a major release then a minor update the year after.
The iPhone 7 and iPhone 7 Plus were the tenth generation of the iPhone. These models were announced on September 7, 2016, by Apple at the Bill Graham Civic Auditorium in San Francisco. The announcement was made by Apple CEO Tim Cook. These models were released on September 16, 2016.
The following year Apple skipped the iPhone 7s model that many people were expecting and went straight to the iPhone 8. There was a plus sized version of this model that was named as expected the iPhone 8 Plus. The iPhone 8 and iPhone 8 Plus were released on September 22, 2017. On April 9, 2018, Apple also released an iPhone 8 with a red color finish and a black front, in support of their partnership with Product Red and their AIDS fundraising campaign. 2017 also saw the iPhone X which was unveiled in September 2017 and released on November 3 2017.
The 2018 iPhones were announced by Phil Schiller on September 12, 2018, at the Steve Jobs Theater in the Apple Park campus. The models were the iPhone XR, the higher-priced iPhone XS and the iPhone XS Max. Pre orders commenced on October 19, 2018. The official release on October 26, 2018.
The 2019 iPhones were announced by Apple at its fall 2019 event. These phones, the iPhone 11, the iPhone 11 Pro, and the iPhone 11 Pro Max were released on September 20th. Pre orders for the 2019 iPhones began on September 13th 2019.
2020 saw a delayed release of the that years' models. But the extra wait was well worth it. This iPhone 12 range includes the iPhone 12, iPhone 12 Mini, iPhone 12 Pro and the iPhone 12 Pro Max. These were the first iPhones to operate on 5G. The range also saw Magsafe introduced. The iPhone SE 2020 was also released earlier in 2020 (this is not a 5G handset).
Apple's Name Change
At the end of Jobs' speech way back in that January of 2007 he gave this pearl:
"From this day forward we're going to be known as Apple, Inc. We've dropped the computer from our name." And then he quoted ice skating legend Wayne Gretzky. "'I skate to where the puck is going to be, not to where it's been.' That's what we try to do at Apple."
Jobs knew way back then in 2007, that computers were going to be old news. The spooky thing is that it has come true: iOS sales this year are predicted to overtake PC sales. Even if a person does not own a computer, they'll still get an iPhone and/or an iPad. For those that don't work when they're at home or do studies, passion projects or gaming that requires a PC, there is now little reason to own a PC.
Apple sold almost 75 million iPhones worldwide in the final quarter of 2014, for the first time overtaking Samsung in smartphone sales. This is no mean feat, considering iPhones are all costly devices, whereas Samsung produce lower-end smartphones also.
Now, the iPhone is a staple for everyone from high school students through to business people. There are technicians out in the field using custom built iPhone apps to run diagnostics on their equipment. It is expected in some schools that children will need to purchase an iPad to complete all of their lesson plans.
Not only has iOS (that's the operating system that runs on all iPhones and iPads) become ubiquitous with personal computing since its release, with the device also comes a slew of possible accessories that are needed to pair with the device to get the most out of the technology. Read more about the Apple range of products.
iPad And iPhone Accessories
A necessary accessory - the iPhone or iPad case. There are a multitude of case options to choose from, depending on which is deemed more important; style, shock proof abilities or feel. The ten different types of cases are as follows: Skins - with a thin rubber or silicone layer that is fitted around the body. It provides minimal improved shock protection while keeping the device slim. Shells- made out of plastic or metal and generally only provides scratch protection with a cool design. Wallets - for iPhones, with a flip open style that carries credit cards too, handy for those that don't want to carry a wallet and a phone.
Rugged Cases- extra shock resistance, dust, scratch and water protection for the people who are either clumsy, have a job in an environment prone to the elements, or those that like to carry their device while they're out adventuring.
Sport Cases- has waterproofing and straps to the body in various different ways, useful for listening to music when exercising.
Leather Cases - for a classy look. Battery - has built in extra battery power to help the device last longer.
Pouches - a simple way to keep a device free from scratches while in a bag.
Bumper Case- A slim fit around the device, similar to a skin, but not covering the back of the device, only the edges.
Screen Protectors
From there your iPhone or iPad may also need a screen protector to protect it from scratches. These come in either a plastic type material for general scratch protection, or a tempered glass design, that makes the screen extremely resistant to scratches.
Chargers
There are also many different types of iPhone chargers that can be purchased for the device. Ensure checking whether the charging port is a Lightning model or the previous 30 pin model. For the different types of chargers - there are MFI wall chargers, for home and office use, there are car chargers, for a quick charge in the car, there are iPhone car cradles and antennas, that also provide a great hands free option for GPS directions and there are powerbanks, for charging on the go. Have a look at the amplitude out to ascertain how fast the device will charge - higher amplitude generally means a faster charge.
iPhone Bluetooth Car Kits
For hands free operation of the iPhone, since speakerphone is not always the best or most convenient option, there is the option of iPhone Bluetooth car kits to use in combination with the phone. It uses near field communications technology so there is no need for any wires, unlike a traditional headset.
Bluetooth Speakers
And last but not least, the iPhone Bluetooth speakers. After all, with a massive iTunes collection and Spotify account it'd be silly to just use the iPhone speaker. Speakers come in a range of different types and qualities so choosing carefully is needed if the music is going to be up loud.
Click here to return to the home page.